Search engine friendly web hosting helps your website generate more traffic by making sure you stay up on the rankings in a search engine's search results. But is this really true?
When a new web-master decides to take the plunge and buy web hosting it is never an easy step to take but many never give search engine friendly hosting a second thought.
The Need for Speed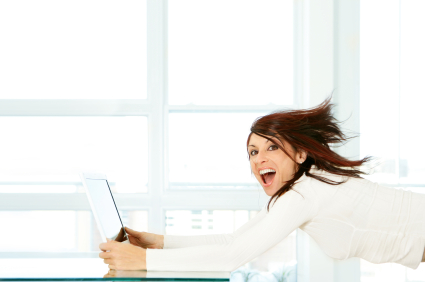 It is vitally important for your blogs and websites to be fast and easily accessible.
This includes crashes, errors or just the fact that it was too slow to load content because of the slow server.
You need to house your website on a well-oiled machine that is both maintained and updated regularly. We all know that people are very impatient now a days and a fast website will please the users far more than something that takes too long to load.
Of course there all so many factors that contribute to the speed of a website, however you really need to start with great Web hosting in the first place. After that you can work on keeping your own site running smoothly knowing that your hosting will not be causing speed problems for your website.
So what has a slow website got to do with search rankings?
Well when a user visits your website from a listing in the search engines, if they are confronted by a slow website, they will possibly bounce right off your website. This is not good for search engine rankings as it shows that a user either went to your website by accident or was not impressed with what they saw. You can use sites like Google Analytics or
Pingdom
to check your site speed.
Awesome Uptime
Have you ever had your site go down? Well it is a nightmare for any Webmaster! Every minute damages your reputation and your SEO (search engine optimization) rankings. Imagine all the people trying to access your website and not been able to.
When the spiders come to crawl your website and it is not available, this is not good for search engine rankings. Especially if they come back a few days later and your website is still not available. This is why we need to make sure we have the best web hosting that has the most reliable up time percentage possible.
Quick Service
I use HostGator for my website hosting and one big reason is their 24/7 instant chat support. When I have a problem I quickly logon to chat to a real person to help me out.
Having well over 20 websites, trust me, I have used this service many, many times. Out of all these times that I've had a problem, Hostgator has quickly fixed my errors 99% of the time and some errors had nothing at all to do with their servers. That is why I use them, because you cannot possibly pay for good web hosting service like that.
Updated Software
Updating your website regularly so that it is easier and faster to access every time is important too and staying in touch with any latest methods which can help you generate more traffic. This is also true for your Web hosting as they need to update their software on the server to keep up with technology. Servers that run older versions of software run the risk of malware invasion and also errors on their customer's websites.
Automated Backup
You are probably wondering what automated backup has to do with ranking in the top search engines, but just imagine when your site crashes and you have nothing to replace it with? That is when automated backup comes in handy. The longer it takes you to replace your website, the more your rankings will drop, so having a backup handy will save a lot of work.